Polyclonal secondary antibodies
The ideal tool for all immunochemistry assays
| For all techniques | And all detection systems |
| --- | --- |
| Immunotitration EIA / ELISA | Chemiluminescence |
| Dot / Western Blot | Immunoenzymology |
| Immunohistochemistry | Immunofluorescence |
| Immunocytochemistry | Immunoprecipitation |
| Flow cytometry | Immunoseparation |
Make your choice within a large range of antibodies
| Various species | Various specificities | Various labeling | Suitable qualities |
| --- | --- | --- | --- |
| anti-human Ig | anti-IgG, IgM, IgA | fluorescent | globulins |
| anti-mouse and rabbit Ig | anti-IgGAM | enzymatic | affinity purified antibodies |
| anti-goat, bovine, dog Ig ... | anti-Fc and Fab fragments | biotin | Fab and F(ab')2 fragments |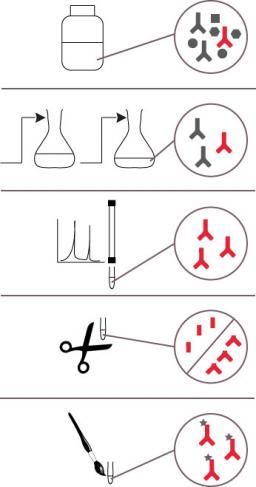 ABLIANCE secondary antibodies are polyclonal antibodies, obtained after animal hyperimmunisation (rabbit, goat or sheep) with human or animal immunoglobulins. The collected immune sera contain, in addition to specific antibodies, others non-specific antibodies and serum proteins.
Globulins
After a succession of non-specific purifications (delipidation, ammonium sulphate precipitation and dialysis), globulins are obtained. This material is suitable for immuno-precipitation techniques.
Affinity purified antibodies
The antibodies are then purified by affinity chromatography, thus ensuring good specificity.
Moreover, the anti mouse and rabbit IgG (H+L) are systematically adsorbed onto a gel chromatography column with human IgA, G and M and so do not cross react with human IgGAM.
Fragments
For some applications (immuno-histology/cytology, flow cytometry) Abliance has available F(ab')² and Fab fragments obtained by enzymatic digestion. These fragments allow less non-specific binding than whole antibodies containing the Fc region. Smaller than whole antibodies, the fragments better enter into cells and tissues.
Labeled antibodies
ABLIANCE also offers various kinds of conjugates: globulin fractions, purified antibodies and Fab or F(ab')² fragments are conjugated to fluorochromes (fluorescein), enzymes (peroxidase, alkaline phosphatase, beta-galactosidase, glucose oxidase) and biotin.